Study Design
In the study's quasi-experimental design, constructs are examined for convergent, discriminant, incremental, and predictive validity by means of a multitrait-multimethod matrix and two contrast groups. Quasi-experimental variation is achieved through the sampling (N=600), varying with regard to training in the two domains (mathematics and economics) and expertise in teaching (university students, teacher trainees, and teachers). For the three status groups, the sampling comprises 150 participants from each subject and 300 who have had academic training in both subjects. Interdependencies between the two domains are examined based on the subsample of university students, teacher trainees, and teachers who are educated in both mathematics and economics.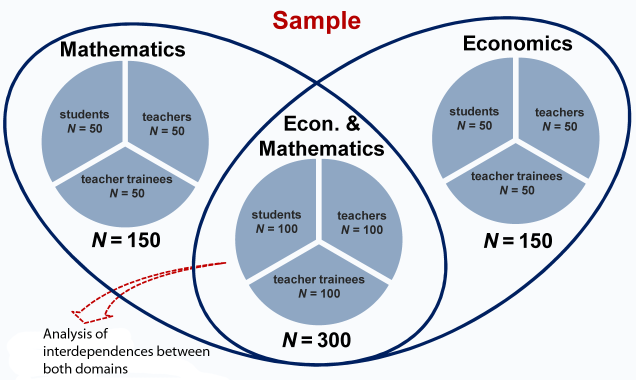 Domain-specific competencies, non-domain-specific competencies, and the influence of expertise are analyzed. This framework covers the in-depth validation of the competency structure model, which differentiates between domain-specific and non-domain-specific competencies. It also covers the associated instruments for competency assessment of pre-service and in-service teachers in both domains; this includes testing with computer-based test formats to facilitate the valid assessment of action-based teacher competency. Particular focus is on explaining the test results in terms of their domain-specificity (mathematics or economics) as well as their non-domain-specific proportions. By means of different expertise groups, we examine whether a change in competency can be mapped over the various stages of teacher education.
Instruments
Domain-specific constructs (mathematics and economics):
For the assessment of teaching competencies (dependent variables), performance-related formats are suggested. Thus, the characteristics of immediacy and spontaneity (AC) or the reflexive demands (RC) of teacher actions must be adequately considered. For this purpose, computer-based open answer formats in natural language and with time pressure as a reaction to video clips were developed especially for AC. For RC, tasks with text and video clips were used. An extensive item pool is already available for this purpose, with items that have already been examined especially in terms of content-related, and cognitive validity (among others by curricula analyses, expert interviews, and cognitive interviews) for pre-service and in-service teachers.
Moreover, extensively validated tests for the differentiated assessment of CK and PCK are available from previous projects in mathematics (KiL, KeiLa) and economics (WiWiKom, ILLEV).
Generic constructs:
Furthermore, the following instruments are used to assess the generic constructs: Reasoning, I-S-T 2000R intelligence scales as well as a video-based instrument for the assessment of situation awareness.